Let's explain the details of the humidor temperature
Whenever we talk about the perfect preservation of cigars it seems that the key is the humidity. While this is true, it is not the only element to consider. It is true that the humidity inside the cigar humidors is crucial, but there are other relevant factors, such as the temperature of the humidor. The temperature in the humidor should be between 16 and 23 degrees Celsius.
One of the functions of the cigar humidors and cigar cellars is of course to aid and compliment the aging of the cigars. So, the question is, what exact influence does the temperature of the humidor have towards this process?
Well, if the temperature is very low (eg. less than 12 degrees Celcius) the aging and enrichment process does not take place at all. In addition, the casing of the cigar can be damaged, broken and lightened.
Remember: You can automate the task of maintaining your cigars with an HR6 cigar humidifier.
On the other hand, if the temperature is very high (more than 24/25 degrees Celcius) it causes the cigar to spoil, and worse… it can encourage the dreaded tobacco beetle to appear. Having said that, most cigar companies today will freeze their cigars prior to sale to kill the eggs of the beetle and so we consider temperature not as crucial as humidity these days.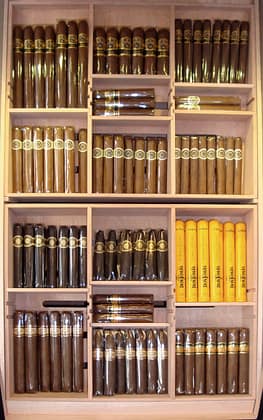 Another thing that must be taken into account is that the relationship between humidity and temperature is very direct. The higher the temperature, the lower the humidity, and vice versa. This is so because the cold subtracts moisture, while the heat causes it to rise. For this reason, keeping a good balance between humidity and temperature is very important for humidors and the correct maintenance of your cigars.
In short, it's important not to obsess over the temperature of the humidors, as it can have a negative impact on maintaining the correct humidity. As we have already mentioned, humidity is the most important factor to consider, with 70% as the ideal level, whereas the temperature is a little more flexible. In any case, it is highly recommended to aerate the cigar humidors from time to time, making sure to ventilate them it so that clean air can enter.