This is our selection of the best humidifiers for professionals
Wacota's variety of best cigar humidifier models covers all kinds of needs. In a previous post we explained which were the five best cigar humidors for collectors. Now, we will offer a selection of the 5 best cigar humidifiers for professionals.
In the case of professional retail establishments, the needs are different from those of personal collectors. Tobacconists store large quantities of cigars, so of course they need large and professional humidors, display cabinets or even custom cigar cellars.
In addition, the frequent rotation of the cigars in retail establishments, with a constant opening of the humidor, makes it more necessary than ever to maintain the humidity at 70% inside the humidor. Due to this, humidors with glass doors are very useful for tobacconists. With glass doors, these models allow them to better show the product to the customer with ease, and without opening the doors unnecessarily. It also allows professionals to see where the requested products are, again without having to open the doors without a good reason.
The humidity in this type of humidor is electronic. All of our humidors for professionals have the hr6 electronic humidifier incorporated. This device maintains the humidity inside the humidor at 70% in a simple and efficient way. Another important option to consider for professional display humidors is the lighting of shelves and display trays. At Wacota Humidors, we use cold LED lighting to avoid the humidors overheating due to the light. This gives a beautifully lit cabinet, without the danger of heat damage to the cigars or access humidity within the humidors.
So let's get into it! Here's our selection of the beat five cigar humidifiers for professionals: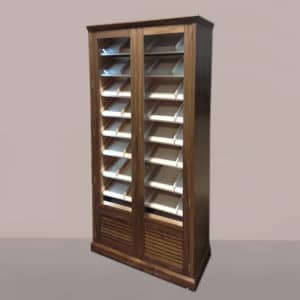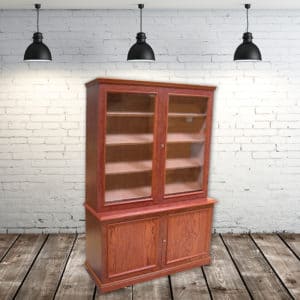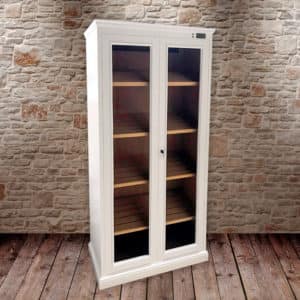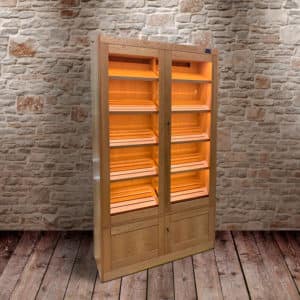 The Wacota humidor catalog has a wide variety of models to select from!
These five professional cigar humidors are a small hand-picked selection from our extensive catalog that may be of interest to professionals. They are all models from our selection of large display cabinets, showcases and cigar cellars. In addition to them, we have smaller models, more designed for collectors, desktop models which are great for both collectors and retailers to display popular cigars by the counter and finally, medium models for establishments and avid collectors.
The preservation of cigars is essential so that they remain fresh and with their distinct aromas characteristics intact. Professionals know this and therefore know that it is essential for tobacconists to have humidifiers or cellars to store their cigars. Thus, they ensure that the products they sell are stored in the ideal conditions, without the risk of spoiling.
In this way, consumers can rest assured that the cigars they buy in establishments with this type of device will be in perfect condition.
As we have discussed in previous articles, keeping cigars in humidors is the best option so that their characteristics are not altered. In humidors and cellars, these products are kept at the recommended humidity and temperature.