Here we will explain to you how to light a cigar well
Lighting a cigar properly is a key aspect of smoking it. Smoking a cigar is an art. It cannot be smoked like a cigarette. In addition to choosing a good cigar and keeping it in the best conditions in a humidor, there are other key aspects. The first is knowing how to cut it properly. The second is to light it up correctly.
The lighting of a cigar is not just lighting it with any lighter, and that's it. It is a ritual in itself. First of all, you have to choose the appropriate lighter. In this sense, it is important to know that not all of them work in the same way: you have to completely discard lighters which use gasoline, because they alter the flavors of the cigar. You also cannot use benzene or aromatic candles, which also affect the notes of the cigar.
We invite you to discover our collection of cigar humidifiers.
The ideal lighters to light a cigar are gas. Another option is to use a cedar leaf, which is lit and pulled towards the cigar to light it with it. There is also the possibility of lighting the cigar with matches.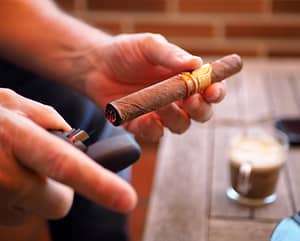 SPIN THE CIGAR ON THE FLAME
Once you have selected the tool with which best to light the cigar, you can proceed with lighting it. First, the foot of the cigar is lit with the lighter, evenly burning the entire end. To help with this, it is very useful to rotate the cigar on the flame.
Subsequently, you have to bring the cigar to your mouth and take the first puffs. In addition, you can take these first puffs while burning the foot of the cigar with the lighter. With the cigar in the mouth, breathe in so that the flame reaches the part of the cigar you are lighting.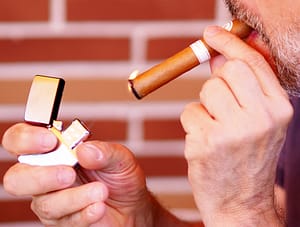 Once the cigar is lit, you can inspect the foot and blow lightly to see if it is burning evenly. With the cigar correctly lit, now it's time to sit back, relax and enjoy it!
We remind you that in Wacota Cigar Humidors we are manufacturers of the best humidifiers for collectors and professionals on the market. We also offer to design and create your cigar cellar. If you have a shop, stand or possibilities of a larger space, do not hesitate to contact us for it.