Seven key aspects to consider when choosing the right humidor for your cigars
Having a humidor may seem like an unnecessary luxury, but in reality it is not. It is a practical and very useful device for cigar lovers. Above all, a humidor ensures that the cigars do not spoil and perish, and along with that your well spent money. So, investing in a humidor is investing in the life and quality of your cigars. We have a wide catalog of models, sizes, finishes and prices. Therefore, we can help you find the right humidor for your needs and budget with seven tips for choosing a humidor.
We offer you seven tips for choosing a humidor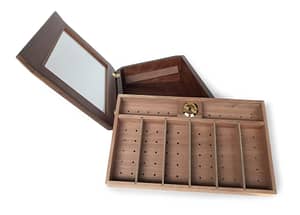 Tips to consider when choosing a humidor:
The amount of cigars. The first thing to keep in mind is the amount of cigars you have or want to keep in the humidor. The capacity and size of the humidor you choose will depend on the volume of cigars you want to store. For example, you can opt for a small humidor with a capacity of 65 cigars, like our Exquisito model. Or one with a larger capacity, up to 100 single cigars, like our Vega model. You can also make the jump to humidors with more capacity, such as the models in the tabletop category.
Boxes or loose cigars. You should also choose the model depending on whether you want to store loose cigars or cigar boxes. For example, the Chile model offers the option of keeping eight boxes of cigars and 100 assorted cigars. In the case of wanting to keep all the cigars in their boxes, the Berlin model, among others, is ideal for this option: it has a capacity for 30 boxes.
Collector or professional. If you are just a collector of cigars, it is best to choose one of the smaller models, such as the tabletop ones. Although if you are a very avid collector, you can opt for larger sizes or even a showcases if they suit your needs best. Although for this category of humidors, you must consider and ensure that you have enough space in your home, since they are very large. In the case of being a professional cigar retailer, that is, having a cigar store, everything will depend on the space you have in the tobacconist and the rotation of cigars you have. For smaller spaces, we advise you to choose one of the medium display models or even a tabletop model to put on the counter. If you have a store with a lot of space, you can opt for a large display case, a showcase or even a cigar cellar.
Visibility of cigars. Another aspect to consider is if you want the cigars to be seen without opening the humidor. In that case, you can opt for humidors with a glass top or more glass-enclosed parts of the humidor. For example, our Cairo walnut model has a glass top, so you can see the cigars without having to open the humidor and consistently compromise the inside humidity and temperature. Another model in which the products kept inside can be seen very well is the Mini Palmera, which has a glass lid. Our Carrito model has a glass front and sides, therefore it is also a good option.
Rotation of cigars. When buying a cigar humidor, you also have to take into account if the cigars that are going to be kept inside will be there for a while or if they are going to be removed to smoke or sell with a certain frequency. For the latter case where the cigars have a heavy rotation of, it is advisable to use something like our tabletop humidor models. Another good option could be our Presidente humidor, in case you also need to store a larger volume of cigars and tabletop humidors are not sufficient.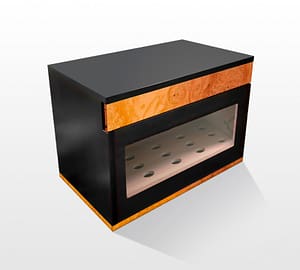 Natural or electronic humidity. Both options are great for keeping your humidor at 70%. Natural humidity, which is trays with sponges moistened with distilled water, is more recommended for smaller humidors, such as the Nicaragua model. For larger sizes, it is better to opt for electronic humidification systems, such as our HR6 (available in normal and mini sizes) or the CigarSpa. For example, for our Estoril humidor the mini HR6 humidifier can be chosen. For the Mostrador humidor, humidification with our HR6 is a good option.
Lacquered or varnished. As we have explained on other occasions, the interior of a humidor should be made of Spanish cedar wood. This is the best wood to keep cigars in the right humidity and temperature conditions. This wood helps the cigars to not dry out, encourages their aging and infuses their aromas. However, the exterior is more a matter of aesthetics, to the taste of each one. We have all kinds of varnishes: mahogany, walnut, cherry, bubinga. We can also lacquer the humidors in black or white, or in other lacquers in the color that best suits the setting in which you want to put the humidor.
We invite you to discover our collection of cigar humidifiers.
Bearing all of these tips and considerations in mind, you can now choose the perfect humidor that fits your needs and tastes! If you still have questions or doubts, don't hesitate to get in touch with us and we'll be happy to help and advise you further.