Our humidor for La Flor Dominicana, purchased for highest value at Procigar's charity auction
Our humidor commissioned by La Flor Dominicana for the charity auction at the last Procigar (Association of Dominican Cigar Manufacturers) Festival was the one purchased for the highest value: a huge $32,000. It is a shiny humidor that resembles a gold ingot, with intricate gold plating and gold-plated fittings.
The humidor, contained 100 Lonsdales Andalusian Bull "The Golden Bull" cigars, a cigar never before released by La Flor Dominicana. This humidor by Wacota had a starting bid of $10,000 and in the end, it was purchased for $32,000. The event ran from 22nd-25th of February at the Gala Dinner held, as the culmination of the Procigar Festival.
At this dinner held in Santiago de los Caballeros, Dominican Republic, the auction was celebrated in aid of Voluntariado Jesús con los Niños (a non-profit organisation for sick children). The Hospicio San Vicente de Paúl (a home for low-income elderly people) and Un hogar para mi Familia (a charitable initiative of Procigar). The humidor of La Flor Dominicana, a tobacco company founded in 1996 in Santiago, Dominican Republic, was the most successful in the auction.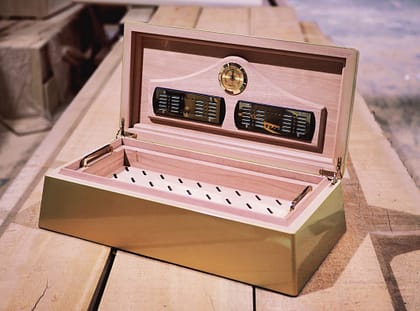 In 1992, the oldest and most experienced cigar manufacturers in the Dominican Republic formed Procigar. This is an association whose objectives are to defend, protect and pass on the good name of the 'Cigar Country' – the exporter of the best premium cigars in the world, as stated on its website (https://procigar.org).
Each year, Procigar members hold a festival welcoming guests from more than 20 countries to Cigar Country. Attendees are typically suppliers, retailers, consumers and industry partners from around the world who come together to celebrate the most important tobacco industry event in the Dominican Republic. This year marked its 15th edition.