It is difficult to delve into the history of humidors or know a date that they were invented, nor the name of their inventor. A simple chest of thick wood, a bit rotten, placed in the slightly damp basement. Something like this could have been the first cigar humidor, as described by Zino Davidoff in his book, 'Libro del buen fumador de habanos" (Ediciones El Cotal).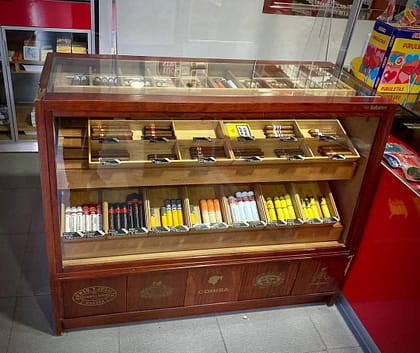 It was a piece of furniture that a modest tobacco grower showed him on one of his trips to Cuba. "Come and see a piece of furniture that my family uses, where cigars do not lose anything," the man showed him. And Davidoff himself not only saw the furniture, but was able to verify its preservation qualities. He smoked a cigar that had spent almost 25 years in that chest of that family of cultivators.
Of course, the humid Cuban climate is perfect for conserving tobacco. For this reason, that cigar that Zino Davidoff smoked after 25 years kept in the furniture of that Cuban family was excellent, as he himself describes it in his book. "The brand's usual aroma was joined by a remote, discreet perfume, a note of softness, a subtle resonance, like the trace of time," he says.
Humidors, the key in countries without a tropical climate
In countries that do not have a tropical climate, such as in Europe, cigars cannot be kept for so many years. In addition, sudden changes in temperature, typical of countries with marked seasons, do not favor cigars. However, they can be kept in humidors for up to 15 years. Of course, assuming that they are well kept.
Although we have said it in other articles, it should be remembered that the most favorable environment for a cigar is:
Relative humidity between 67 and 72%. The ideal degree of humidity is 70%.
Temperature between 20 and 25 º C.
The boxes in which the cigars come also help with their preservation. So it is never a bad idea to put them directly in the humidor inside their boxes. However, in addition to ensuring their preservation, the humidor also enriches the cigars. As we have mentioned on other occasions: the flavors settle, the cigar ages better and they are infused with the aroma of the cedar wood of the humidor.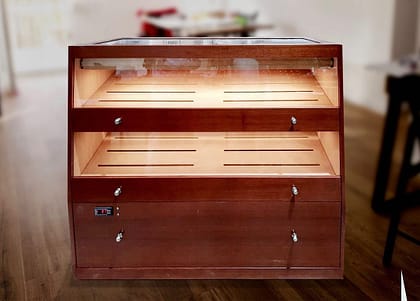 Preserving and aging cigars
Zino Davidoff also explains it in his book, "I will never tire of repeating that a cigar kept in good condition, not only does not lose any of its quality, but it improves. As it gets older, it changes. But it is no less satisfactory for that: it has reached its full maturity".
However, it all depends on the tastes of each smoker. Just as there are young wine lovers, and those passionate about wines with many years of reserve, there are tobaccos that age worse than others. For this reason, when buying a Premium cigar, you must be well informed about the type of tobacco in your blend and for how long it can be kept (in the ideal humidity and temperature conditions).
Looking for a cigar humidifier for your humidor or Walk-in cigar room?
Secondly, it is advisable to know if the product you are buying has been in the store for a long time; the period in which the cigar is at (fermentation or maturity); whether it can and/or must still age for longer and the degree of maturity it is at. All of this is key to knowing how long a cigar can be kept before it should be smoked.
In any case, humidors are the best places where cigars can rest. "Every cigar lover should have a humidor at home, that is, a more or less large place where their cigars are stored or kept for a few months before being consumed," advises Zino Davidoff.